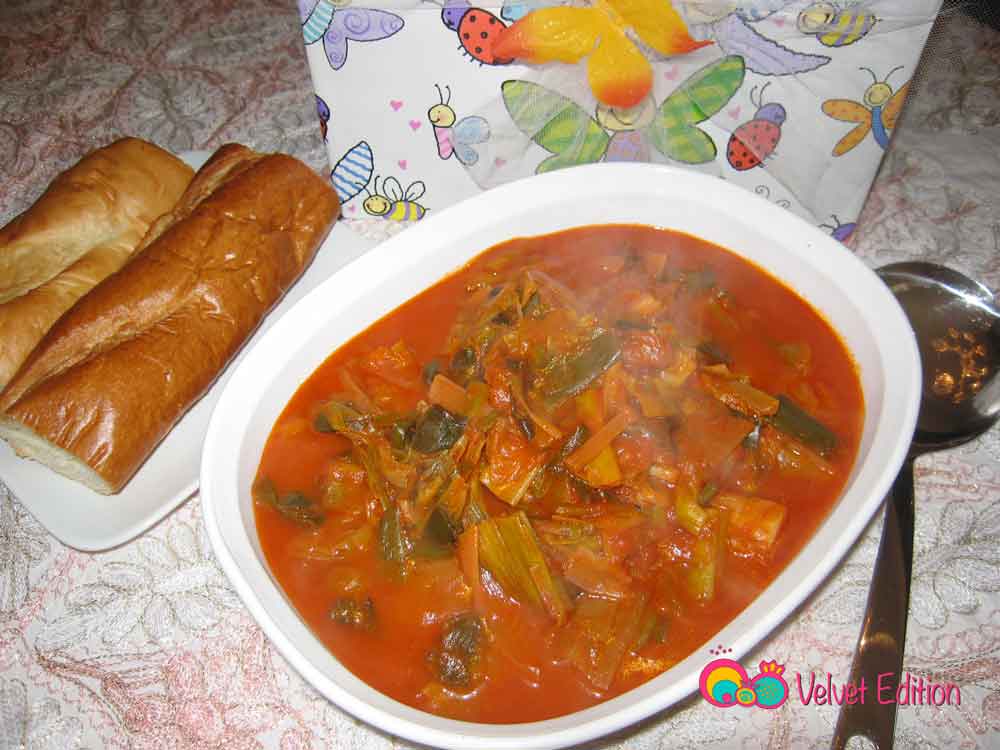 Leeks belong to the onion and garlic family and contain Vitamin B, antioxidants, and nutrients that prevent damage to our blood vessels. In other words, they are very good for you! Use the entire leek and don't through any away. The green part of the leek tastes just as good as the white part. Leeks need to be separated and washed several times, since dirt will be trapped between the shafts.
Skill level: Easy
Leeks in Tomato Sauce
2014-06-13 16:01:08
Velvet Edition: "Mediterranean" Recipe
Ingredients
3 leeks chopped and washed
2 tablespoons cooking oil
3 tablespoons tomato paste
1 teaspoon pepper paste (optional)
1 tablespoon chicken bouillon
1/2 teaspoon salt
1/4 teaspoon black pepper
1/4 teaspoon red pepper
Water to cover
1 tablespoon lemon juice
Instructions
Chop and wash the leeks several times in a bowl of water to remove any sand and dirt that's trapped between the leaves.
In a saucepan, heat the cooking oil for a few minutes.
Add the chopped leeks.
Cover the pan with lid, and sauté on medium high heat for about 10 minutes. Toss the pan with the lid on top a few times. The leeks will start to wilt.
Add tomato paste, chicken bouillon, salt, black and red pepper.
Add enough water to cover the leeks by about 1 inch.
Bring the mixture to a boil, and then reduce heat to low and continue to cook for about 20 minutes. Sometimes, if the leeks are tough you will need to cook them for a little longer. If you find that they need more cooking time, make sure there is enough water. Add more water if necessary and cook for a little longer. It should be the consistency of stew, and grab a piece of baguette to mop up that delicious sauce!
Add the lemon juice, stir and turn heat off. The lemon juice will prevent the leeks from discoloring.
♠ Notes
1. Pepper paste is widely used in Mediterranean cooking. It adds an extra level of flavor and is available at specialty stores. I make it at home, and will have a step by step post on making pepper paste.
Velvet Edition https://www.velvetedition.com/
Click on the first image below to view a step by step slideshow:
---