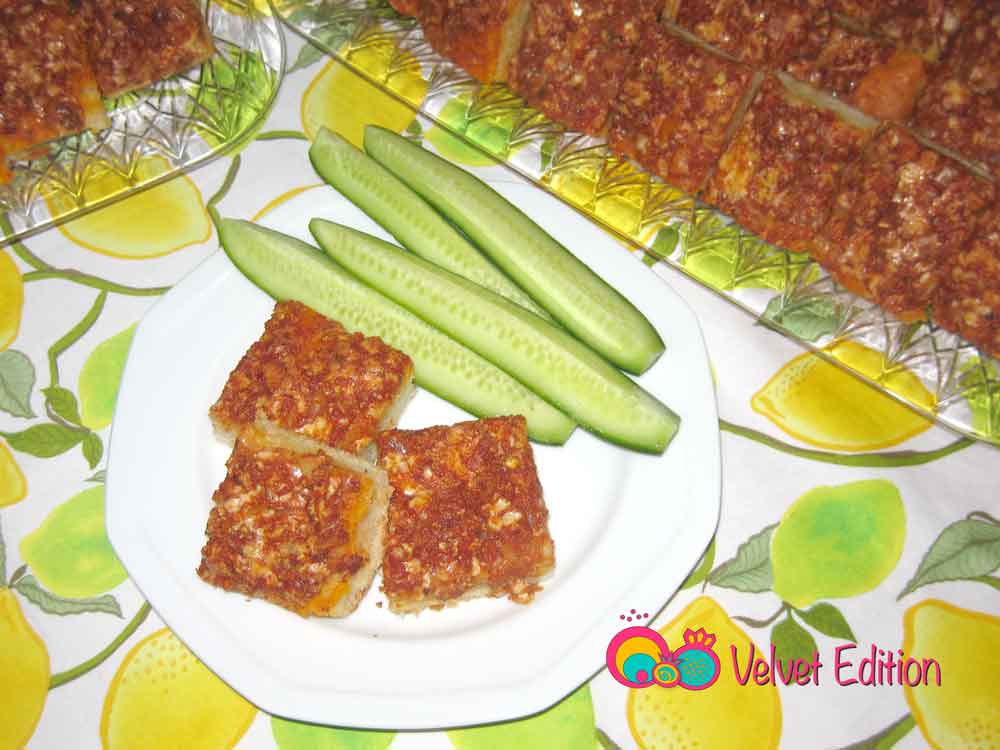 Cheese zaatar and pepper paste appetizer is a delicious alternative to the common cheese buerek. If you are entertaining and want to serve something a little "off the tangent" serve this appetizer. The zaatar combined with red pepper paste, cheese, onions and cumin is amazing. These cheese zaatar and pepper paste appetizer can be cut into small squares and make an excellent buffet finger food. You can make the pepper paste at home, which I highly recommend or you can purchase them in jars. They also work great for potlucks and company picnics!
Skill level: Intermediate
Cheese Zaatar and Red Pepper Paste Appetizer
2015-06-01 17:25:12
Serves 35
Velvet Edition: "Vintage" Recipe
Dough
4 cups flour
½ cup vegetable oil
1 teaspoon yeast (see note #1 below)
1 teaspoon sugar
1 teaspoon cornstarch
1 ½ cup lukewarm milk
1 teaspoon salt
Filling
4 Roma tomatoes – grated and drained
1 cup Panela, Queso Blanco, or SQueso Fresco cheese – grated
1 small onion – finely chopped
1 tablespoon oregano or 1 tablespoon Zaatar
1 ½ teaspoon salt
1 tablespoon cumin
1 tablespoon tomato paste
2 tablespoon pepper paste
½ cup olive oil
Instructions
Grease 18 x 13 inch baking pan with vegetable shortening or butter. Set aside.
Mix ingredients for dough in a large bowl, cover and set aside to rise.
Grate the tomatoes and strain for about 15 to 30 minutes.
Grate the cheese and mix together with the grated tomatoes and rest of the filling.
Preheat the oven to 350°.
On a lightly floured surface open and shape the dough into a rectangle to fit the pan.
Spread the filling over the dough.
Dock randomly with a fork.
Bake for about 30 – 45 minutes until the edges are golden brown.
Remove from the oven and cut into 35 squares pieces.
Arrange on a serving platter and serve.
♣ Notes
1. This dough does not require much yeast because you don't want it to double in size.
Velvet Edition https://www.velvetedition.com/
Cheese Zaatar and Red Pepper Paste Appetizer slideshow: