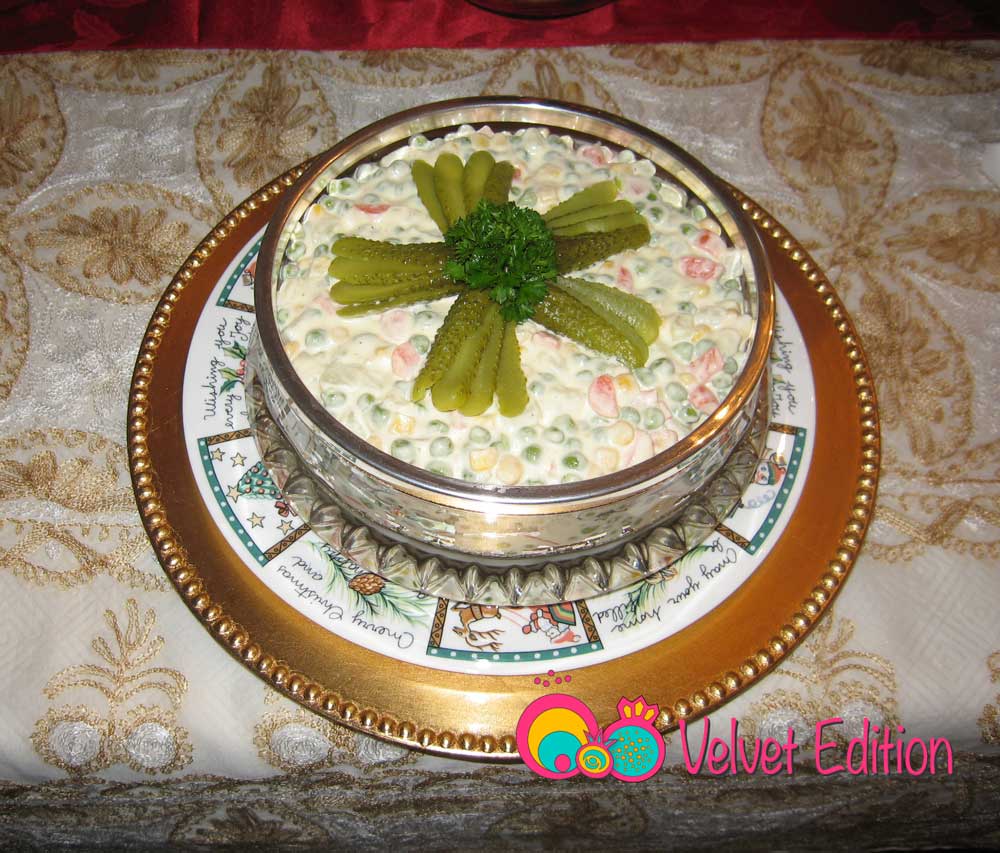 Salad Russe, also known as Salad Olivier is perfect for holiday buffets. Carrots, peas, potatoes and corn are combined in a creamy mustard vinaigrette dressing. This salad is the absolute condiment to go along with your favorite roast. For extra tangy flavor, finely diced pickles may also be added. It's very often garnished with sliced pickled gherkins as seen in this photo or with hard boiled eggs.
Skill level: Easy
Salad Russe | Olivier
2014-11-03 08:44:59
Serves 8
Velvet Edition: "Vintage" Recipe
Ingredients
4 cups diced potatoes
2 cups diced carrots
1 cup frozen peas
1 cup frozen corn
1 tablespoon salt
2 or 3 pickled gherkins diced ( optional )
2 eggs, hard boiled and quartered ( optional )
Mustard Vinaigrette Dressing
1 3/4 cups mayonnaise
1/4 cup vegetable oil
2 teaspoons Dijon mustard
1/4 cup apple cider vinegar
1/2 teaspoon salt
Instructions
Fill a 4 quart saucepan halfway with water, add 1 tablespoon salt and bring the water to a boil.
Add the carrots and bring to a boil.
Reduce heat and cook for about 3 -5 minutes, drain in a colander, and run cold water over it.
Repeat the first 3 steps again, but this time using the potatoes. Cook the potatoes 5 – 8 minutes, taking care not to overcook it. (see note #1 below).
Fill the saucepan with about 1/2 cup water, bring to a boil and add the peas and corn.
Simmer for about 3 minutes, then drain the peas and corn into the same bowl with the carrots and potatoes.
Empty the cooked vegetables into a mixing bowl.
In a small mixing bowl mix the ingredients for the dressing.
Add the dressing mix to the cooked vegetables and using a large spoon gently fold the two together.
Pour the content into a serving bowl and garnish.
♣ Notes
1. Carefull not to overcook the carrots and the potatoes. You don't want them to be soft, otherwise when you mix it with the dressing, it will lose it's shape. It should be al dente.
Velvet Edition https://www.velvetedition.com/
Click on the first image below to view a step by step slideshow:
---