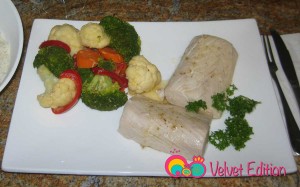 Poached fish is light, low in calorie and very easy to make. You can put this together in no time. Cod works the best because it is thick enough to poach and keeps it's shape as it cooks. But I've see it done with salmon too and it works just as well. The lemon butter caper sauce which is a must for this dish, will still make this dish "a light alternative to fish and chips!"
Skill level: Easy
Poached Fish
2014-10-20 14:35:02
Serves 4
Ingredients
4 pieces cod fish fillets
6 cups water
1/2 cup dry white wine
2 – 4 thinly sliced lemons
4 – 6 garlic cloves
4 – 6 peppercorns
2 – 3 parsley
2 – 3 bay leaves
Sauce
1/4 cup unsalted melted butter
2 – 3 tablespoons lemon juice
1/2 teaspoon salt
1/4 teaspoon white pepper
1/2 teaspoon capers ( optional )
Instructions
In a deep saute pan, bring the water, lemons, garlic, peppercorns, bay leaves and parsley to a boil.
Lower heat and simmer for about 10 minutes.
Remove the bay leaves and parsley from the broth.
Add the fish fillets, turn the heat up and bring to a boil, then reduce heat back to low. (see note #1 below)
Cover and simmer on low heat for about 7 minutes.
Remove the fish from the broth when it turns white.
In a small saute pan, melt the butter, lemon juice, salt and pepper.
Bring to a boil and turn heat off and add capers.
Drizzle the butter mixture over the fish just before serving.
Serve with your favorite steamed vegetables.
Notes
1. The fish should not boil otherwise it will get tough. When the broth comes to a boil again after adding the fish fillets, lower the heat.
2. Make sure the fish is completely submerged in the broth.
3. Make sure you don't overcook the fish. This too will cause the fish to be touch.
Velvet Edition https://www.velvetedition.com/
Click on the first image below to view a step by step slideshow:
---