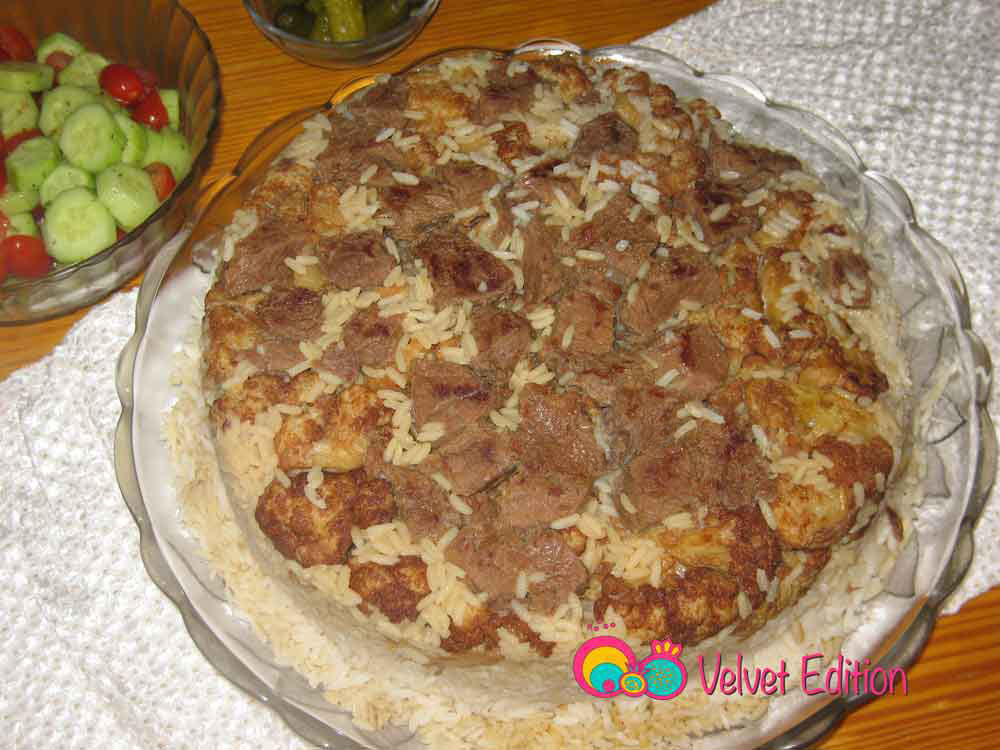 Makloubeh with beef and cauliflower is a very popular national Jordanian dish. The cauliflower is blanched, then lightly fried while the chunks of beef are cooked and all are then added to the rice. They are arranged in layers in the pan with the beef at the bottom, cauliflower and finally the rice. When the rice is cooked, the pot is inverted over onto a larger serving platter which is how it got the name "makloubeh." It is a lengthy process but the flavor is so good that at the end it's well worth the effort.
Skill level: Intermediate
Makloubeh with Beef and Cauliflower
2016-01-10 20:42:49
Serves 6
Traditional "Jordanian" Recipe
Ingredients
2 pounds Chuck roast or beef stew – cut into 1 inch cubes
1 teaspoon salt
½ teaspoon black pepper
2 – 3 tablespoons vegetable oil – to stir fry the meat
2 cauliflowers – cut into florets
Vegetable oil for frying the cauliflower florets
2 cups Uncle Bens Rice
6 cups water
1 tablespoon chicken bouillon
1 ½ teaspoon salt
½ teaspoon black pepper
½ teaspoon red pepper
Instructions
Fill a 5 quart saucepan halfway up with water.
Add the meat and the seasonings to the water.
Bring the water to a boil, then lower heat and cook for an hour or till the beef becomes fork tender.
Drain and set the beef pieces aside.
In a large skillet add 2 or 3 tablespoons of vegetable oil and stir fry the cooked beef pieces for 3 – 5 minutes until lightly browned.
Remove and set aside.
In another 4 or 5 quart saucepan heat enough vegetable oil to fry the cauliflower.
Fry the cauliflower in batches till they are golden brown and set aside.
Fill another 5 quart saucepan halfway up with water and bring to a boil.
Add the rice and bring to a boil.
Lower heat to medium high and cook the rice for another 2 or 3 minutes.
Drain the rice and rinse under cold water.
In a 5 quart saucepan arrange the cauliflower.
Layer the meat over the cauliflower.
Add the cooked rice over the top
Add 6 cups water
Add the chicken bouillon, salt, black and red pepper and gently stir to combine with the water.
Bring the mixture to a boil and then lower heat and cook till all the water is absorbed. (see note #1 below)
Invert onto a large round serving platter and serve.
♣ Notes
1. To check the all the water has absorbed, insert a flat wooden spoon vertically into the rice and gently nudge to check that all the water has been absorbed. Do not stir the mixture, because it will make the mixture "mushy."
Velvet Edition https://www.velvetedition.com/
Makloubeh with Beef and Cauliflower slideshow:
---