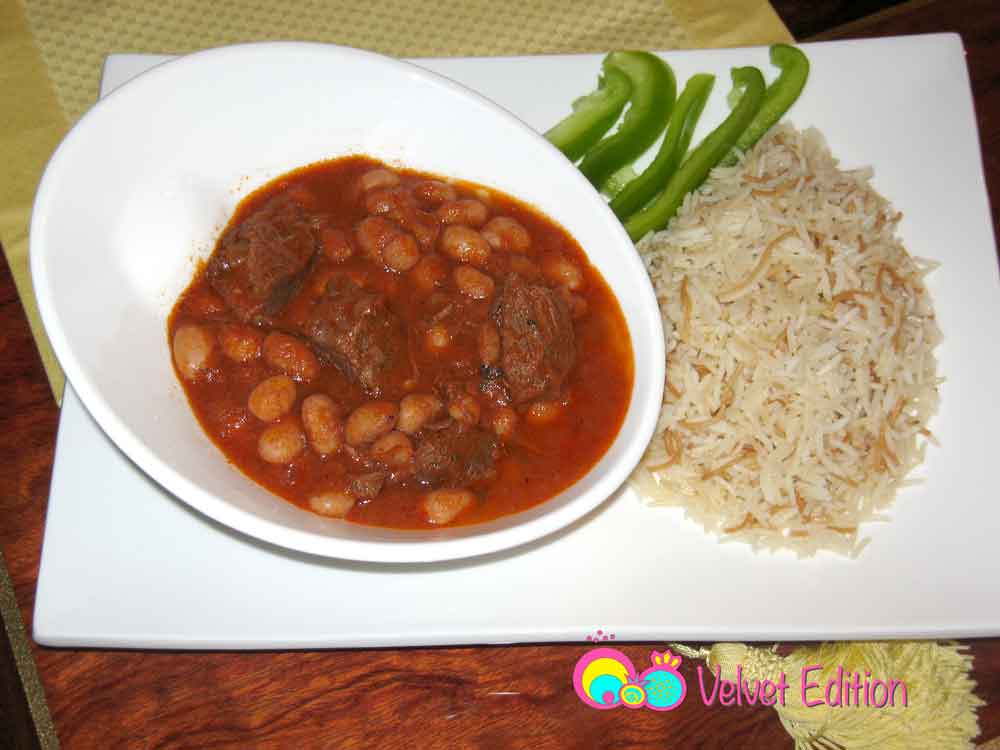 Cranberry Beans with Meat Stew is a hearty meal rich in flavor and packed with vitamins. Cranberry beans have a very short season and are available during the summer season. If you visit a farmer's market, you might see them a week or two and then they will be gone! You can make them with or without beef. However, as the meat cooks in the tomato sauce for a lengthy time, they become very tender and soak up the flavor of the sauce. That's why it's called a stew. All you'll need is some jasmine rice with vermicelli, a salad of your choice and you're set!
Skill level: Intermediate
Cranberry Beans with Meat Stew
2015-09-09 16:53:09
Serves 6
Traditional "Lebanese" Recipe
For the meat
2 pounds beef stew meat
3 pounds cranberry beans – shelled (see note #1 below)
1 tablespoon kosher salt
6 – 8 whole black peppercorns
½ onion cut into big chunks
For the stew
1 medium or large onion diced
4 tablespoons vegetable oil
2 teaspoons salt
½ teaspoon black pepper
¼ teaspoon all spice
2 teaspoons chicken bouillon
Tomato sauce
1 can tomato paste
6 – 8 cups water
Meat
Fill a 5 quart saucepan halfway with water.
Add the salt, peppercorns, chopped onions, and meat.
Bring the water to a boil on high heat.
Lower heat, leave the lid slightly open and cook until meat is fully cooked and tender. This will take about 45 minutes.
Tomato Sauce
In a separate bowl, dilute the tomato paste with 6 the water. (Note: If you feel that the sauce is too thick, then add more water).
Stew
In another saucepan, heat the vegetable oil, and then the diced onions.
Sauté with the salt for a minute or two.
Add the cooked meat, black pepper, all spice, and continue to cook for about 5 more minutes on medium high heat until the onions are slightly transparent.
Add the beans and stir for a few minutes.
Add the tomato sauce that you diluted in the bowl, to the mixture.
Add the chicken bouillon and mix once to incorporate the flavors together.
Cover, and cook on high heat till it starts to boil.
Lower the heat again and cook till tender, about 2 hours on medium low heat.
♣ Notes
1. This type of bean takes longer to cook compared to Northern white beans
Velvet Edition https://www.velvetedition.com/
Cranberry Beans with Meat Stew slideshow:
---