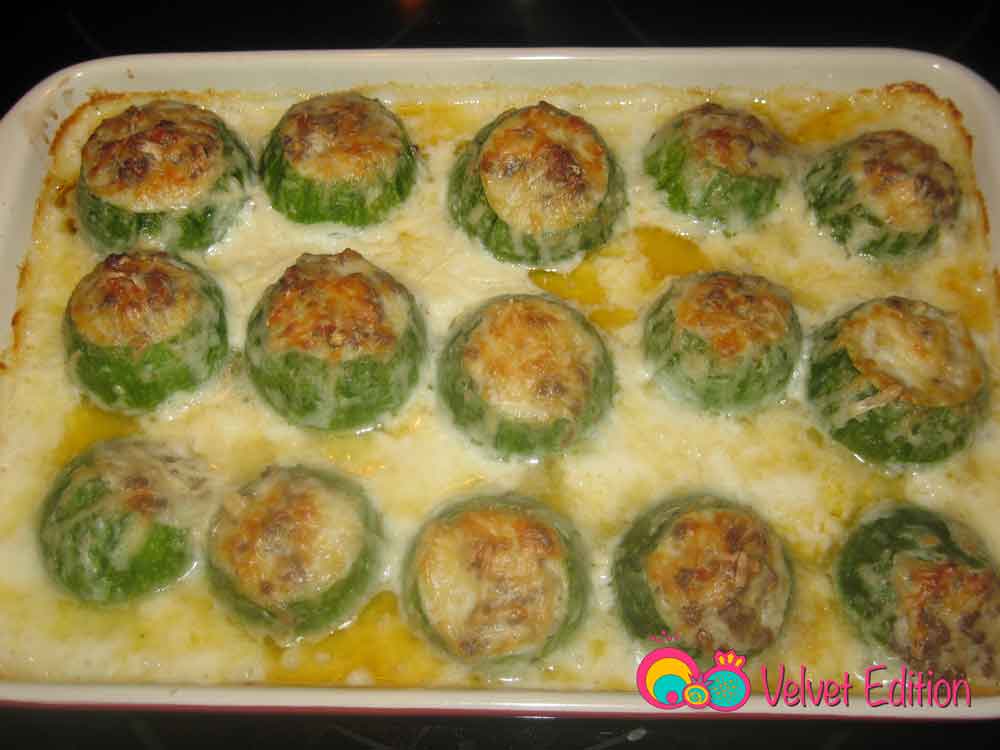 Zucchini gratin filled with seasoned ground beef, smothered with bechamel sauce and sprinkled with cheese is truly considered comfort food. Any zucchini variety would work. During the months of October and November there are so many varieties available at the farmers market. You can use any variety you like in the recipe. I tend to use the round zucchini squash simply because it's easy to serve. Zucchini gratin makes a great buffet item too.
Skill level: Intermediate
Zucchini Gratin
2015-11-03 13:03:08
Velvet Edition: "Trademark" Recipe
Ingredients
15 round zucchini squash
1 tablespoon salt
Beef filling
3 tablespoons vegetable oil
1 ½ pounds ground beef – about 3 cups
6 – 8 cloves crushed garlic
¾ teaspoon salt
¼ teaspoon red pepper
¼ teaspoon white pepper
1 teaspoon chicken bouillon
1 tablespoon butter
Bechamel Sauce
¼ cup butter
4 tablespoons flour
Add 4 cups milk
¼ teaspoon white pepper
½ cup grated Parmesan, Swiss or Jack cheese
Instructions
In a large pot of boiling water, add the salt and plunge the round zucchinis into the boiling water.
Cook for no longer than 10 minutes. Do not overcook otherwise they will get soft.
Drain in a colander and run cold water over them to prevent further cooking.
Leave to cool.
Using a sharp knife, cut the top end off, giving yourself enough room to core and stuff the zucchinis.
In a 5 quart saucepan, and over medium high heat add the vegetable oil and the ground beef.
Cook till the beef is lightly brown.
Add the crushed garlic and seasonings and continue to cook for a few more minutes while stirring occasionally.
Remove from heat and set aside.
In another pan on medium heat, melt the butter, then add the flour.
Stir for a few minutes on medium heat.
Gradually and using a whisk, add the milk while stirring constantly to prevent any lumping.
The texture of the sauce should be creamy and smooth.
Add the white pepper, stir and set aside.
Using a spoon, remove the seeds out of the zucchinis.
Fill each zucchini with the meat filling.
Arrange the stuffed zucchinis on a greased baking pan.
Carefully pour the sauce over the zucchinis so the meat doesn't spill out of the zucchinis.
Sprinkle the grated cheese evenly over the top of the sauce.
Bake in a preheated 350 degrees oven for 45 – 50 minutes or till lightly golden brown.
Velvet Edition https://www.velvetedition.com/
Zucchini Gratin slideshow:
---