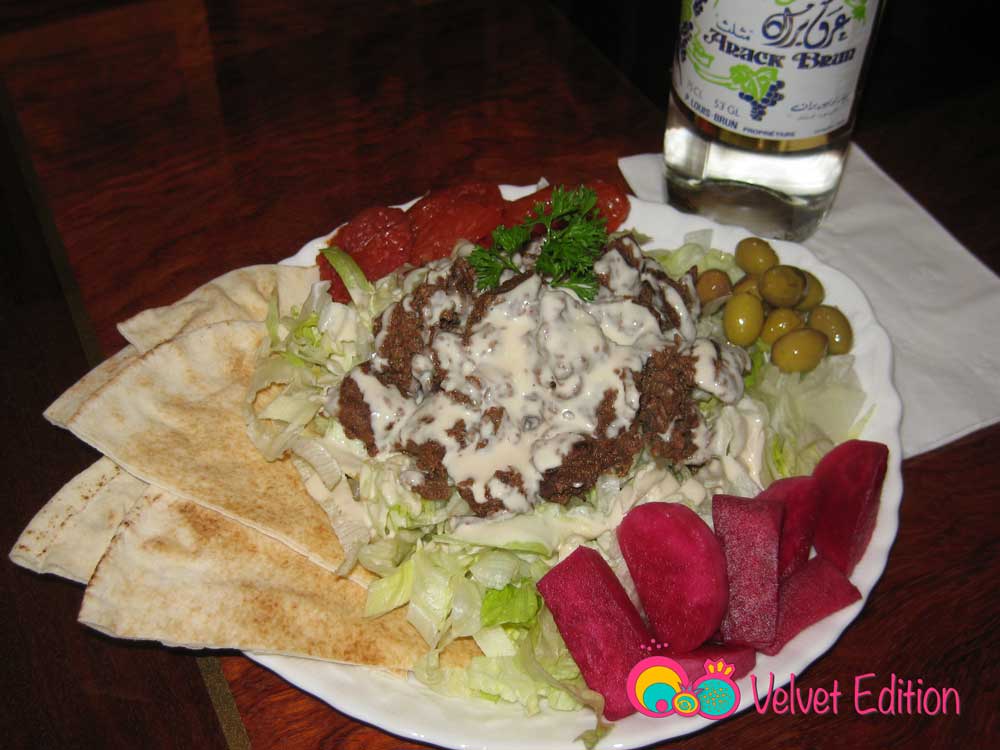 Shawarma is made with sirloin steak that's been marinated for several hours in spices. The most important spice in this dish is cardamon and lots of it! The orange juice is the tenderizer. Shawarma is topped with taratour, shredded lettuce, and stewed tomatoes, then wrapped in pita bread. Invite friends over for a shawarma party and have them make the sandwich the way they like it. Remember to serve Arak for drinks!
Skill level: Intermediate
Shawarma
2015-06-29 14:43:44
Serves 6
Traditional "Lebanese" Recipe
Shawarma
4 ½ – 5 pounds top sirloin steaks, trimmed, and sliced thinly across the grain.
2 cups orange juice
½ cup apple cider vinegar
1 cup vegetable oil
3 teaspoons salt
½ teaspoon red pepper
½ teaspoon black pepper
½ teaspoon white pepper
½ teaspoon all spice
1 teaspoon shawarma seasoning
1 teaspoon ground coriander
1 teaspoon cardamom
10 – 15 garlic cloves crushed
Stewed tomatoes
5 – 6 Roma tomatoes cut into quarters
2 – 3 tablespoons vegetable oil
Lettuce
1 Iceberg lettuce – thinly sliced
Taratour
See "Taratour" recipe
Pickles
Turnip pickles available at Middle Eastern stores
Bread
Pita bread available at Middle Eastern stores
Instructions
Mix all the ingredients together in a large bowl.
Place the mixture in a resealable plastic bag.
Refrigerate for 24 hours flipping the bag once in between.
In a large 7-quart Dutch oven, place the meat and cover.
Cook on high heat for 15 minutes, tossing and mixing to prevent the bottom from sticking.
Reduce heat to medium and continue to cook for another 1 hour.
While the meat is cooking, shred the iceberg lettuce.
Cut the Roma tomatoes and stew on medium heat in a small skillet with the vegetable oil.
Remove the tomatoes when sides are golden brown.
Place in a serving platter and cover with foil to keep warm.
Check to see that the meat is done. The meat should be tender and flaky.
Empty the content into a casserole or baking dish and cover with foil.
Arrange the shawarma meat, stewed tomatoes, shredded lettuce, turnip pickles and pita bread all on a table and have your guests wrap their own sandwich!
Velvet Edition https://www.velvetedition.com/
Shawarma slideshow:
---