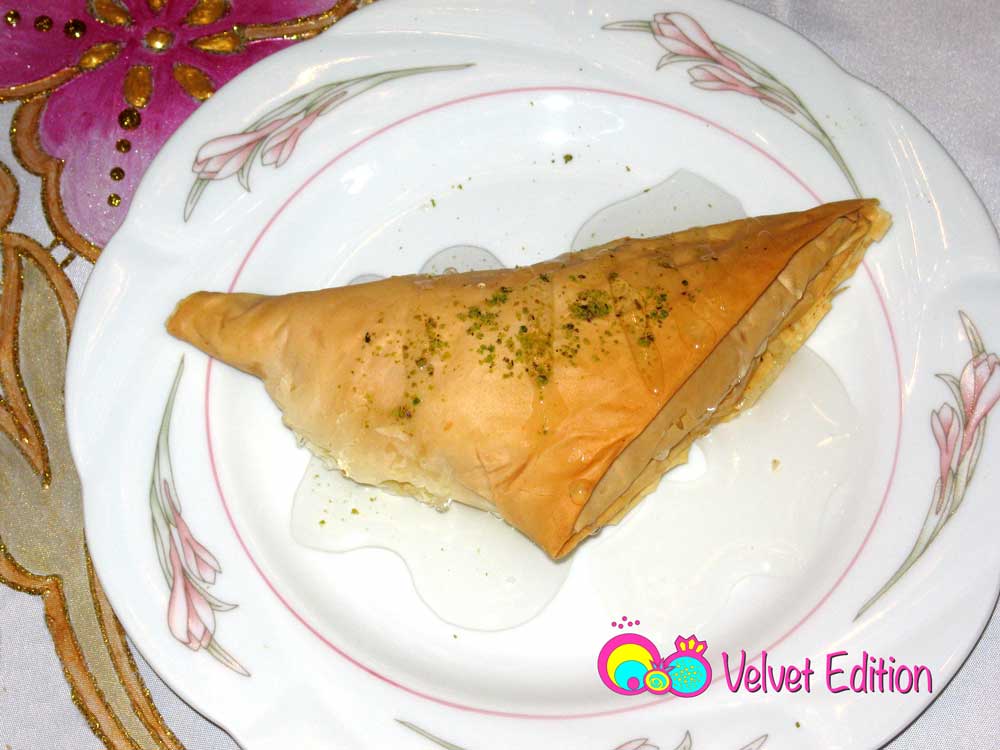 Shaabiyat is phyllo dough layered with butter, filled with a soft semolina cream, wrapped in a bundle like "samosas" and baked till golden brown. It's served warm with a light drizzle of orange blossom infused syrup, and sprinkled with ground pistachios. If you like your warm food and desserts, then this one is definitely for you. You will love sinking your teeth into the crisp and flaky dough only to find out that there is a warm stuffing waiting for you. I recommend that you eat these with your hands, and put the fork aside! Go ahead and indulge!
Skill level: Intermediate
Shaabiyat
2015-04-01 18:26:24
Serves 18
Traditional "Lebanese" Recipe
Ingredients
1 packet frozen phyllo dough – 18 sheets – thawed
1 cup unsalted butter – melted
Semolina filling
2 1/2 cups heavy whipping cream
2 1/2 cups half and half
1 cup semolina
1/2 cup sugar
1 tablespoon rose water (see note #1 below)
1 tablespoon flower water
Garnish
Ground unsalted raw pistachios
Syrup
2 cups sugar
1 cup water
1 tablespoon lemon juice
1 tablespoon orange blossom water
Instructions
Defrost the frozen phyllo dough in the refrigerator for several hours in it's box.
Semolina filling
In a 5 or 6 quart saucepan add the heavy whipping cream, half and half, semolina and sugar till.
Mix and cook on medium high heat stirring constantly and making sure the bottom doesn't burn. Once the mixture starts to bubble lower heat slightly and continue to cook for another 5 to 7 minutes until the mixture thickens. It will be yogurt consistency.
Remove from heat and pour the mixture into a bowl.
Immediately cover the top directly with saran wrap and refrigerate for several hours, preferably overnight until it is completely cold.
Syrup
Prepare the syrup by placing the sugar and water in a saucepan and bringing the mixture to a boil.
When it starts to boil add the lemon juice and continue to simmer on medium low heat for about 3 minutes. The syrup should not be thin. If you find that it is thin after it cooled, reheat and simmer it for another 2 minutes.
Remove from heat, add the orange blossom water and leave to cool. (see note #2 below)
Assembly
In a small saucepan, melt the butter (you might need more butter, depending on how much you use when spreading.)
Lay the phyllo dough on one side of your counter, cover with a plastic wrap to prevent it from drying, and take one sheet.
Lay the sheet flat with the long side facing you (landscape orientation.)
Brush lightly some of the areas with butter.
Fold one long side a third of the way up.
Brush the folded area with butter.
Fold the top part over on the side that you just buttered.
Brush the side with butter.
Place a tablespoon of the creamy semolina filling on one end of the strip.
Take one corner from the short side of the strip and fold it over the cream and the edge of the pastry aligns with the long side of the strip.
Continue wrapping using the same motion until you reach the other side. (see note #3 below)
Brush with melted butter and place on a cookie sheet. (see note #1 below)
Bake till golden brown about 30 minutes.
Remove and place on serving platter.
Place one shaabiyat on an individual plate, drizzle with syrup and sprinkle with ground pistachios.
Notes
You can freeze the shaabiyat at this point.
Add the flower water when the syrup is cool. If you add it when the mixture is hot, the essence will evaporate.
There are other ways to fold the shaabiyat, but I prefer to fold it like a samosa because the creamy filling will remain intact inside and won't spill out.
Velvet Edition https://www.velvetedition.com/
Shaabiyat slideshow:
---