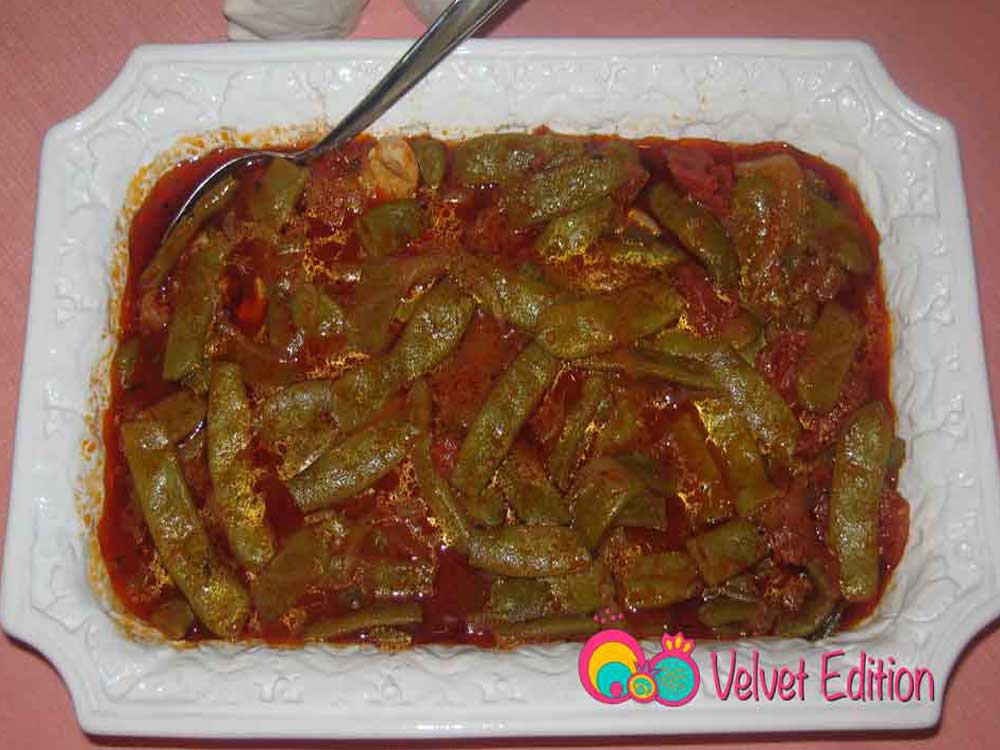 Romano beans in garlic tomato sauce is a dish I make frequently during the summer. While shopping at the farmers market you'll find an abundance of varieties to choose from. This type of bean is flat, wide and has a more dense flavor than the more common green beans. Serve it with a bowl of your favorite rice or bulgur pilaf recipe. Vegetarians will love this recipe and it's one that's popular at brunches during the month of Lent.
Skill level: Easy
Romano Beans in Garlic Tomato Sauce
2015-07-23 10:39:09
Serves 6
Traditional "Lebanese" Recipe
Ingredients
2 pounds Romano beans (washed, snip the ends and cut each in half)
1 ½ teaspoon salt
¼ teaspoon black pepper
¼ teaspoon red pepper
¼ teaspoon all spice
Add 7 – 8 garlic cloves
1 onion (sliced fajita style ) medium size
½ green pepper
1 can tomatoes
1 tablespoon tomato paste
1 cup water
Add 1/3 cup vegetable oil
Instructions
Wash the beans, snip the ends and cut each lengthwise in half.
Place in a bowl of cold water and rinse twice.
Add the salt and remaining seasonings, toss and set aside for about 15 minutes.
Finely dice the green bell pepper and set aside in a bowl.
Julienne the onion and set aside in a bowl.
In another bowl, add the canned tomatoes, water and tomato paste. Stir till the tomato paste has dissolved.
Add the bell peppers, onions and tomato mixture to the green beans. Mix together to combine.
Empty the content into a 7 quart saucepan.
Bring to a boil on high heat then reduce heat to medium low and simmer for about an hour till the beans are tender and fully cooked.
♣ Notes
1. If you're making this dish for a Lent buffet table, it tastes just as good served at room temperature.
Velvet Edition https://www.velvetedition.com/
Romano Beans in Garlic Tomato Sauce slideshow:
---