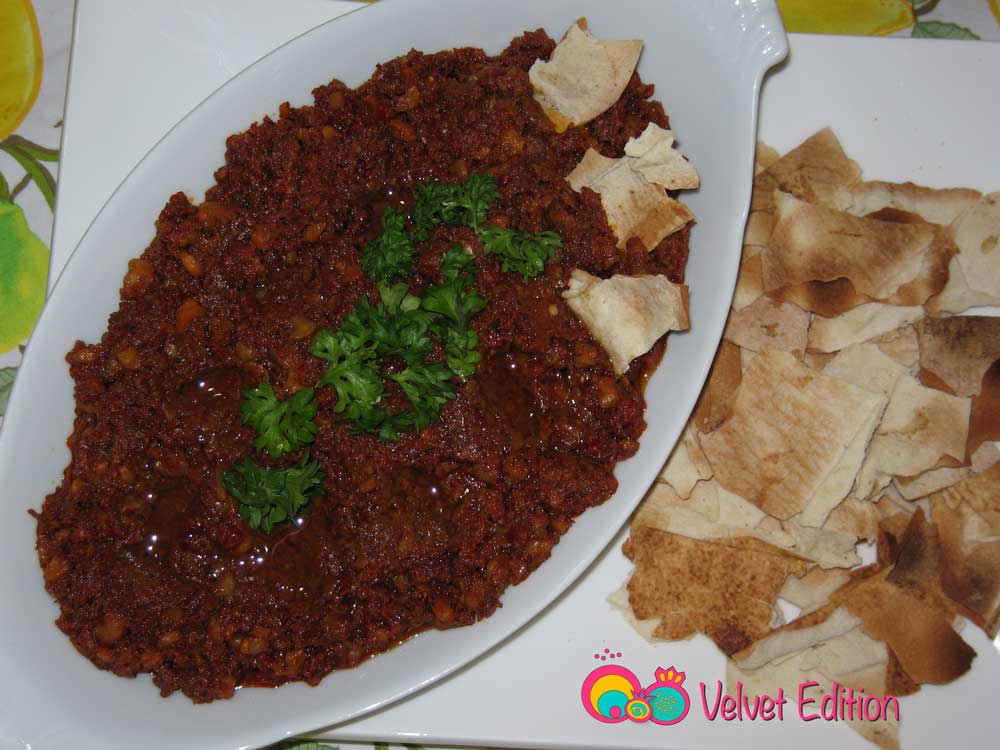 Muhammarah is made with concentrated pomegranate syrup, pepper paste, bread crumbs and coarsley ground walnuts. Concentrated pomegranate syrup is widely used in Mediterranean cuisine as an alternative to lemon juice and renders a sour flavor. Muhammarah is often served with beef or chicken mortadella. It is also served as an appetizer along side toasted pita bread.
Skill level: Easy
Muhammarah
2015-11-03 14:44:02
Traditional "Lebanese" Recipe
Ingredients
1 ½ cups chopped walnuts
1 cup unseasoned breadcrumbs
1 cup olive oil
4 tablespoons lemon juice
2 teaspoons pomegranate syrup
2 teaspoons cumin
1 teaspoon sugar
½ teaspoon red pepper
½ cup pepper paste
Garnish
¼ cup olive oil for garnish
Parsley for garnish
Instructions
In a bowl combine all the ingredients and mix together.
Empty the content into a serving platter.
Drizzle the 1/4 cup of olive oil and garnish with parsley.
Serve either with home made chicken or beef mortadella.
Velvet Edition https://www.velvetedition.com/
Muhammarah slideshow:
---