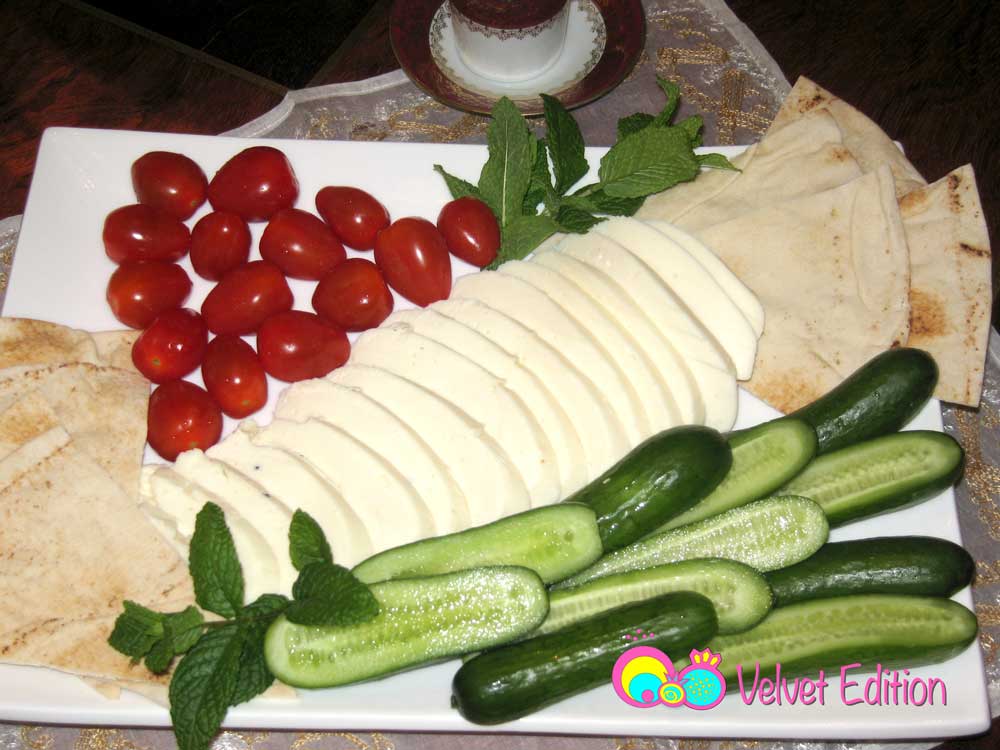 Halloumi cheese is very easy to make at home and will cost much less that if bought them ready from the store. Halloumi cheese is probably the most loved and "respected" cheese in Lebanon. Black caraway seeds are added into the cheese then folded together. You can freeze a whole batch of them and use them when necessary. You can grille them, fry them or serve them as appetizers with Persian cucumbers, vine ripened tomatoes, labneh, fresh mint leaves and slices of pita bread. If you are over 21, fix yourself a glass of cold Arak on the side!
Skill level: Easy
Halloumi Cheese – Homemade
2015-05-15 11:12:24
Velvet Edition: "Trademark" Recipe
Ingredients
4 ½ – 5 pounds Queso Blanco Cheese
Kosher salt
Black caraway seeds
Paper towels
Foil
Saran Wrap
Instructions
Divide the cheese into 9 slices.
Sprinkle the cheese all around with Kosher salt and leave for about 2 hours.
Preheat oven to 250 degrees.
Place the cheese squares on a foil lined baking tray.
Bake for about 45 minutes to an hour. You'll see it releases it's juices and the cheese becomes very soft.
Remove from the oven and pat dry on paper towels to remove any remaining liquid left in the cheese. Use new paper towels if they get very damp and wet.
Sprinkle a few black caraway seeds on one side of the halloumi.
Fold and press hard again on the paper towel to make sure the cheese is completely dry.
Wrap each piece of the halloumi with saran wrap and place them in a freezer safe resealable bag. You can freeze them at this point and use them as needed.
Serve with cucumbers, labneh, olives, tomatoes and fresh mint leaves.
Velvet Edition https://www.velvetedition.com/
Halloumi Cheese – Homemade slideshow: