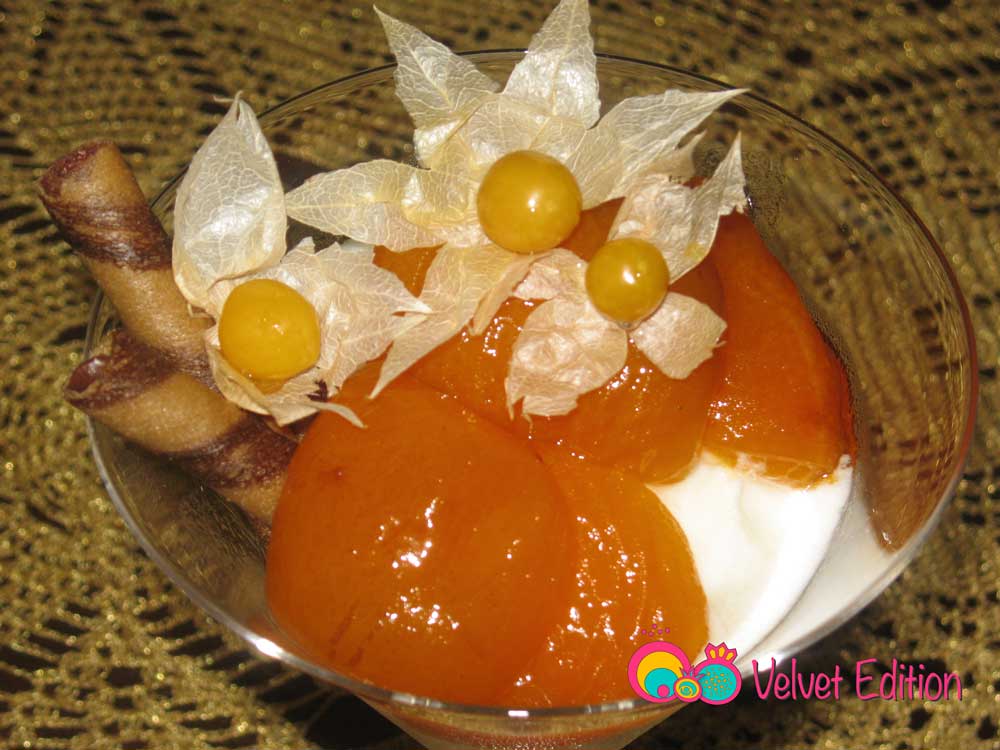 Fresh apricot compote is the perfect snack for those who are "trying" to diet yet must have something sweet after lunch or dinner. Made with fresh apricots sliced in half, cooked and then baked in syrup. Keep them refrigerated in a tightly sealed container and use when needed. Here, I served them in a martini glass over pineapple sorbet, chocolate wafers, and ground cherries that were donated by a faithful velvet edition follower and an old time friend. You can also serve them over a slice of toast, or just on their own.
Skill level: Easy
Fresh Apricot Compote
2014-08-18 13:16:27
Velvet Edition: "Vintage" Recipe
Ingredients
100 – 120 apricots (washed, sliced in half, pitted)
6 cups sugar
2 cups water
1/2 teaspoon citric acid
Instructions
Dissolve the sugar with the water in a large saucepan and bring it to a boil.
Boil for 10 minutes.
Add the citric acid and continue to boil for another 5 minutes.
Add the apricots to the mixture in an even layer, pressing down to keep them in the syrup.
Bring to a boil, lower heat to medium high and cook for 10 minutes.
With a slotted spoon remove the apricots and transfer to a baking pan. Make sure you don't overcook them. Otherwise the apricots will break apart.
Repeat steps 4 – 6 till all the apricots are used.
Layer them to the rest of the apricots in the baking pan.
Heat oven to 500 degrees and bake the apricots for 10 minutes. At that point the syrup will be boiling.
Remove from oven and cool completely. Store and refrigerate in an airtight container.
Notes
Cooking the apricots one layer at a time will help keep their shape.
Once the apricots are out of the oven and completely cooled, the syrup should be the consistency of corn syrup.
Velvet Edition https://www.velvetedition.com/
Click on the first image below to view a step by step slideshow: