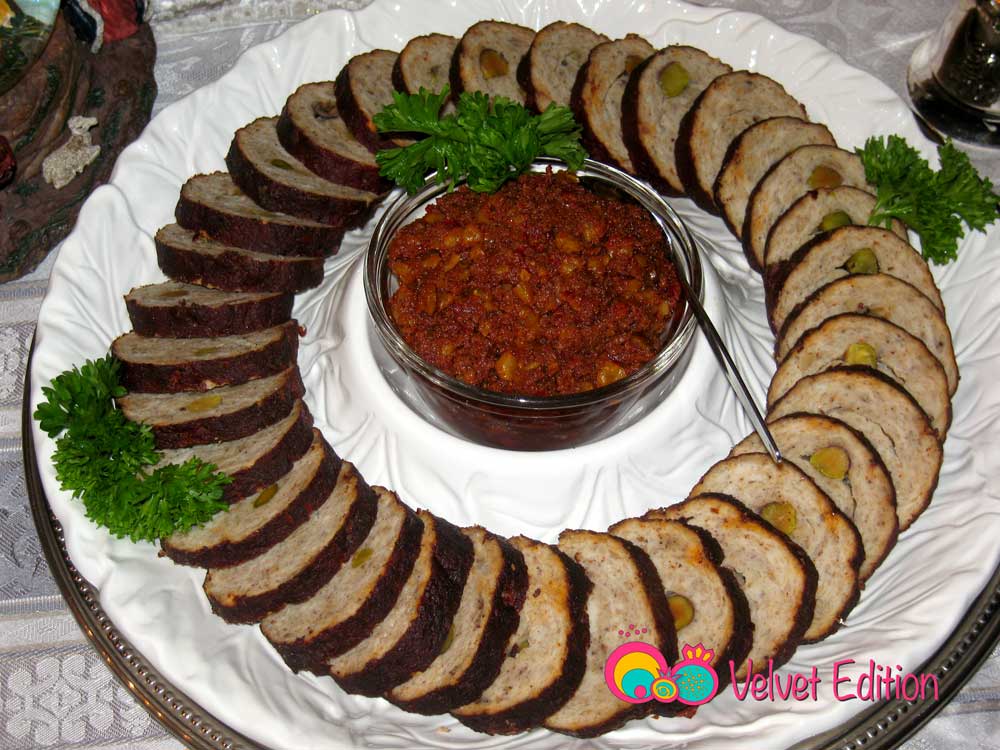 Chicken mortadella is a very popular buffet item at any Mediterranean gathering. The chicken is processed just like the shell of the "keufteh" and then seasoned with various spices, unsalted pistachios and cooked in red wine and apple cider vinegar. Slice into 1/4 inch pieces. The pistachios which can be seen in each slice adds color and flavor. Arrange on a chip and dip platter and place Muhammarah in the dip section.
Skill level: Intermediate
Chicken Mortadella
2015-11-10 09:39:08
Serves 12
Velvet Edition: "Trademark" Recipe
Ingredients
6 chicken breasts
½ teaspoon red pepper
½ teaspoon black pepper
1 teaspoon all spice
¾ teaspoon cinnamon
1 teaspoon salt
1 teaspoon Dijon mustard
3 – 4 crushed garlic
2 cups breadcrumbs
4 eggs – separated and egg whites reserved
pistachios
Vegetable oil for frying
Parsley leaves for garnish
Broth
5 tablespoons vegetable oil
4 teaspoons tomato paste
2 teaspoons pepper paste
½ cup apple cider vinegar
1 cup red wine
2 cups water
2 teaspoon salt
3 teaspoon chicken bouillon
Instructions
Wash and pat dry the chicken breasts
Cut the chicken into 1 inch pieces.
Place ½ the chicken pieces into a food processor and process till paste like.
Empty into a large bowl.
Repeat with the remaining chicken and add to the bowl.
Add the seasonings, mustard, garlic, breadcrumbs and egg yolks to the chicken and mix well.
Divide the chicken into 5 equal sized balls.
Flatten each ball on a sheet of plastic wrap or parchment paper. About 8 inches long and 4 inches wide.
Lay two rows of pistachios and roll up from the wider side.
Shape the chicken into an 8 inch logs.
Coat the logs with the reserved egg white.
Lay on a tray lined with parchment paper or plastic wrap.
Repeat with the rest of the balls.
Refrigerate for about ½ hour till it's nice and firm.
In a 4 or 5 quart saucepan, heat about 3 or 4 cups of vegetable oil.
When the oil heats up, add 3 of the logs and fry till lightly golden on both side.
Repeat with the other two.
Add all the ingredients for the broth into a saucepan.
Bring the broth to a boil and gently place the chicken logs into the saucepan.
Boil the logs for about 3 minutes and then lower heat and cook for an hour.
Drain on a paper towel and wipe any excess sauce off the logs.
Slice thinly into ¼ inch slices and serve.
Notes
Note: You can freeze them in a Ziploc bag with the sauce. To serve heat the content in a saucepan, leave to cool, dry, slice into ¼ inch pieces, garnish with parsley leaves and serve with Muhammarah.
Velvet Edition https://www.velvetedition.com/
Chicken Mortadella slideshow:
---