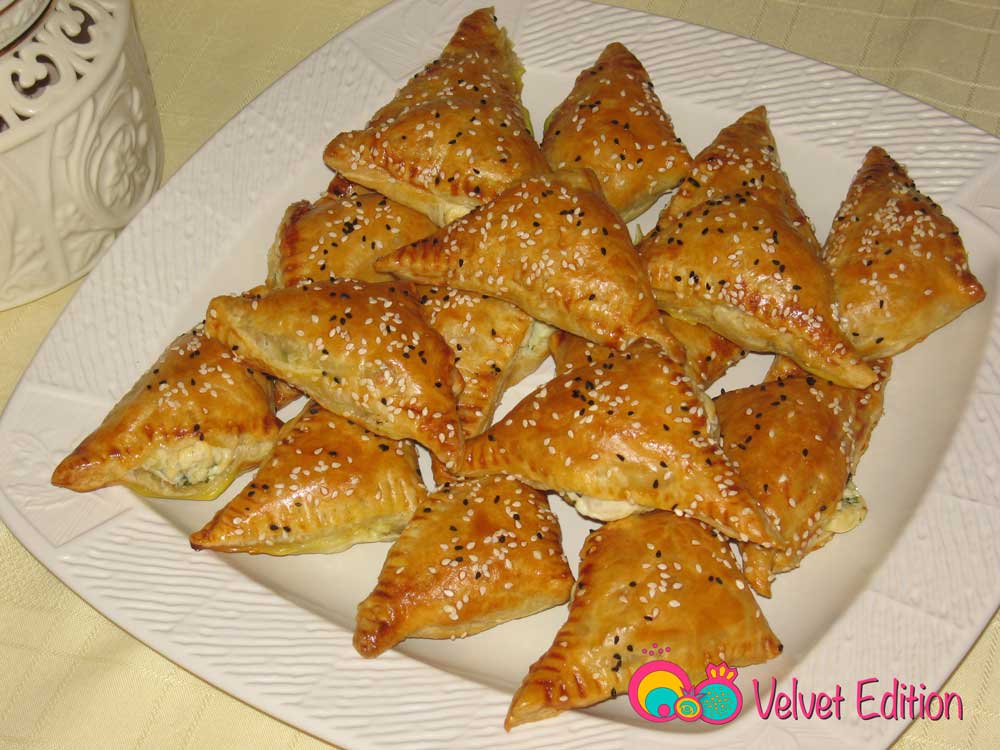 Cheese beurek in puff pastry is the easiest from all the beureks you'll ever make. In retrospect, this should have been the first beurek recipe posted on my site. They make a great appetizer or side dish for your dinner or lunch menu. Cheese beurek in puff pastry is so popular, it's often sold at food festivals and fund raisers. Store bought frozen puff pastry that's pre-cut into squares are shaped into triangles and stuffed with a cheese and parsley filling. The beurek is then glazed with egg and sprinkled with sesame seeds and black caraway seeds. Although black caraway seeds are used for decorative purposes, they do give the beureks a distinct flavor. You can find them at Middle Eastern stores and some specialty stores.
Skill level: Easy
Cheese Beurek in Puff Pastry
2015-04-03 09:40:50
Serves 24
Velvet Edition: "Mediterranean" Recipe
Ingredients
2 packets frozen puff pastry dough squares ( 22 ounce each) – thawed
Filling
5 – 6 cups packed grated Panela, Queso Blanco or Queso Fresco cheese
1/2 cup chopped parsley
1 teaspoon salt
1/2 teaspoon red pepper
1/2 teaspoon mahleb (see note #3 below)
Glaze & Garnish
1 egg beaten for brushing
Raw sesame seeds
Black caraway seeds
Instructions
Each packet contains 10 squares.
Cut each square diagonally into 2. (see note #1 below)
Combine the ingredients for the filling.
Assembly
Pick up a triangle with one hand and fold it into 2.
Seal the other short side by crimping with a fork.
Add a tablespoon of the cheese filling inside, and seal the other long side the same way as you did before.
Place the filled beureks onto a baking sheet that's lined with parchment paper.
You can freeze them at this point.
Once you have filling all the triangles, brush each beurek with the egg. (see note #2 below)
Sprinkle each beurek lightly with raw unsalted sesame seeds and black caraway seeds.
Bake for 30 minutes or until golden brown.
♣ Notes
1. You will get 20 beureks per packet of pastry.
2. Don't brush the beureks with egg if you are going to freeze them. Brush just before baking so it doesn't dry up.
3. Mahleb is an aromatic spice prevalent in Mediterranean cuisine, and particularly in baking. It is the pit of the bing cherry and once the pit is cracked, the kernel is extracted and ground into fine powder.
Velvet Edition https://www.velvetedition.com/
Cheese beurek in puff pastry slideshow:
---